Details ...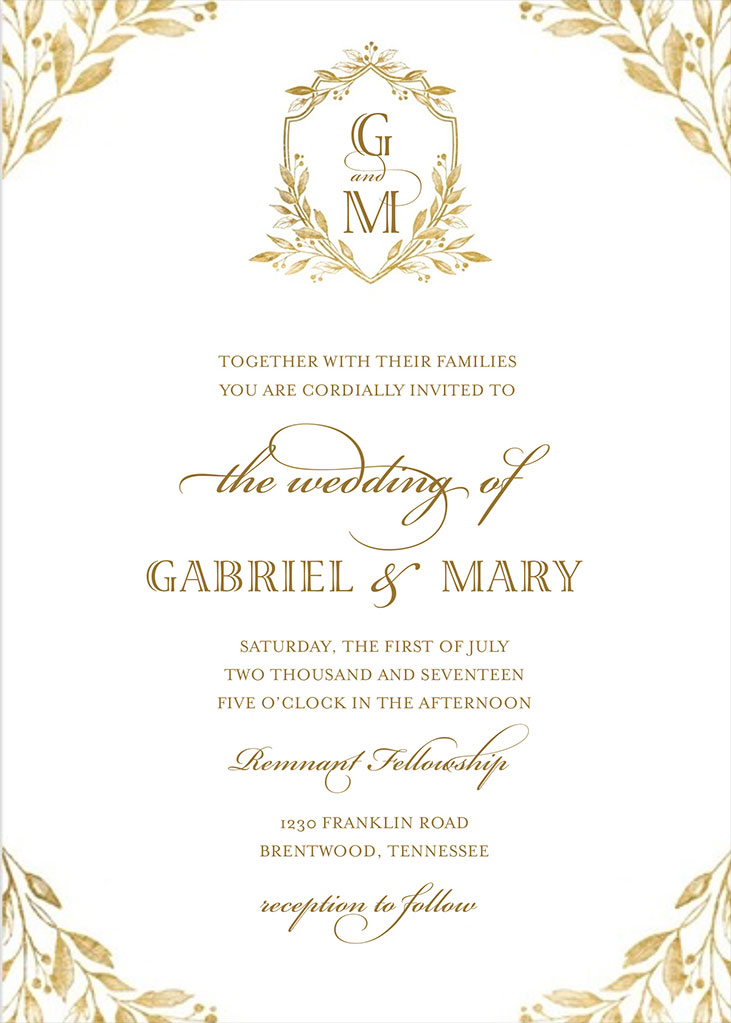 Wedding Day!
Saturday, July 1, 2017
The Couple is registered at:
Bed, Bath, & Beyond and Target
Their Story...
Gabriel Hamilton :
My name is Gabriel Hamilton and I have been blessed to be a part of Remnant Fellowship Church since 2002. My family is originally from Ohio, but we have lived here in Brentwood, Tennessee since July 1st of 2005. Being so young when our family joined the church has made a big impact in my life, however, my personal testimony began when I started high school. Going into my high school years I wasn't looking to God but rather had a strong pull for being very concerned with what others thought of me—and this pull affected everything in my life including my relationship with my parents. Because of this wrong focus, God blocked many opportunities for me, including going off to college for wrestling, having a relationship, and no true godly friendships.
"Everything that has happened in both of our lives is a direct blessing of what we are taught here at Remnant Fellowship Church.​"- Gabriel Hamilton
Starting off my first year of college, I could finally see all the wrong that I had in my life and I was able to "flip it" and live a life for God alone. I quickly experienced how blessed life could be— my relationship with my parents was restored, and I also experienced better relationships with my brother and sister. I learned that looking for God's will and not the praise of man is the only way to have real godly friendships. I am so thankful for everything this church has done for my family, and I know that I would be on a completely wrong path if not for the clear teachings that we get to hear and live out..
The Proposal
Everything God has done with Mary and my relationship has been more blessed than I could ever deserve. Around our high school years, I clearly had a desire for a relationship, but God had blocked everything I was trying to do because I had all the wrong focus. In college, after having a complete turnaround with a new focus on God, rather than my own pleasure, Mary and I started dating in September of 2015 and it is has been the most blessed and peaceful time of my life. Up to the day of our engagement, God had staged everything so perfectly. I am not much of a fairytale guy but this day was definitely one of those. God had the perfect weather, morning and entire day set up — and she said yes! The best part of our engagement was going back home to our family and friends and having everyone there together. It is no lie that that whole day was one of the most blessed days of my life. It would be a shame not to say how much all of this is a result of going to my parents for advice and wisdom. Everything that has happened in both of our lives is a direct blessing of what we are taught here at Remnant Fellowship Church.
Mary Gormsen:
My dearest mother found Weigh Down in 1999, and her life was completely changed through the message of total love and obedience. She found Remnant Fellowship Church in 2000, and our whole family joined in 2002 while living in Minnesota. Because the church made such a monumental impact in our entire families' lives, our parents made the decision to move to Brentwood, TN in 2005 to surround my siblings and me with an upbringing of friends who were being raised the same way.
I have spent most of my life growing up in Remnant Fellowship Church, and that is something I am inexpressibly thankful for, as I know what I have learned and experienced here has spared me from so many wrong choices and instead kept me on a path of finding God's lead in every area of life. I love that all of my favorite memories take place right here in Tennessee with the dearest saints that I have been friends with for years!!
"I have so much hope for our marriage and the rest of our lives because of what we have been taught here at Remnant Fellowship! I pray that our wedding, marriage, and entire life only bring glory and honor to where it belongs— to God Almighty, the Creator of everything!"- Mary Gormsen
The most amazing thing are the teachings, faithfully poured out through Mrs. Gwen Shamblin, has provided is a TRUE, personal relationship with The GOD of the Universe! To this day I cannot comprehend how amazing, loving and absolutely wonderful our God is! I have grown up watching Mrs. Gwen express her love and adoration for God, and I have known since I was young that that was the relationship I wanted with God—complete love and submission. God has continually allowed conviction and refinement in my life through every church service, Weigh Down class, book, resource, etc. We have been given so much!! I praise GOD for every day that he allows me to hear the truth and be convicted to change! This is a church of change and it is AMAZING!
I have so much hope for our marriage and the rest of our lives because of what we have been taught here at Remnant Fellowship! I pray that our wedding, marriage, and entire life only bring glory and honor to where it belongs— to God Almighty, the Creator of everything! My prayer is that our lives please Him by continuing to live out His truth. Jesus Christ said to judge true teachers and teaching by "the fruit" and the fruit is here! I have seen just a few examples of the fruit in my siblings and some of my best friends growing up and now being married in this church. The blessings of putting the Christlike teachings into practice are real! There is no place else I would rather be!
"Better is one day in your courts that a thousand elsewhere; I would rather be a doorkeeper in the house of my God than dwell in the tents of the wicked. For the LORD God is a sun and shield; the LORD bestows favor and honor; no good thing does He withhold from those whose walk is blameless." - Psalms 84:10-11
God moved my and Gabriel's families to TN the same year, so we have known each other for quite a long time! We became very close friends, and when the time was right, through lots of prayers and getting advice from our parents, we began to date in college! I was immediately in love and knew that I would be honored to marry him! Gabe has ALWAYS been consistent…nothing but gentle, patient, and loving towards me. Many of his family members told me that "Gabe just loves!" I have noticed this more and more through every situation, that Gabe's heart is full of love, and I know this love could not come if it wasn't for his love for God first! Getting to walk through the past year and a half together has been amazing and very convicting, as I see Gabe handle every situation beautifully. I cannot wait for the rest of our lives falling more in love with God and each other!
Engagement Story
God is so sweet to create the perfect day for such a memorable, fun day! I woke up that Sunday morning thinking Gabe and I were going to get coffee in downtown Nashville and go Christmas shopping. God, in His incredible attention to detail, sent a light snow the night before, which just about made me cry! Gabe picked me up and we went to coffee, and before heading out, Gabe asked if I wanted to go on a walk. We walked around a little bit and ended up at the Capitol (with one of our first dates visible in the background). Gabe got down on one knee and asked me to marry him!! All I could think of how perfect God's timing was. Of course, I said YES!!! I was so surprised and soon learned that Gabe had planned ahead so much just to make sure I would have no idea! Right after, we got to go ice skating in the snow for a few minutes in Nashville before heading back to my parents' house where our families were waiting! That night, we got to have our dearest friends and family over to the Hamilton's home to continue the celebration! I am still in awe of God for allowing all of this and allowing me to marry such a godly, incredible man! This had obviously been a desire of my heart, but to completely give it to God and wait on Him and His timing has led to more blessings than I could have ever imagined! My heart was and is still so full, and I am forever grateful and undeserving of what I've been given.​