A picture is worth a thousand words.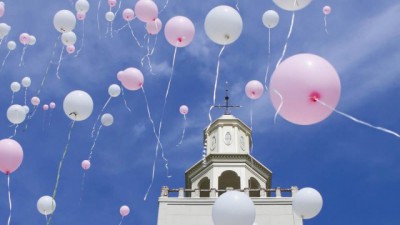 That statement, used countless times throughout history, speaks volumes…and it accurately describes the beauty of our Remnant Fellowship Weddings. The messages, vows, words, colors, attire, decorations and foliage, music and dancing, food and fellowship…all of it…reveal the fact that GOD is behind the creativity and splendor that make up these grand occasions. Every aspect, every design idea, and every bit of teamwork contributed by the scores of volunteer hours donated by Church members for each Wedding serves to show that each special event is from the Heavens. The fact that so much is done in such a short period of time for each Wedding (just a matter of days) is a testimony to the fact that this HAS to be GOD orchestrating these glorious events. There is no way that we as volunteers could do this without direct guidance and blessing from the Heavens. We have learned throughout the many years of Weigh Down Ministries and now the Remnant Fellowship Church that such blessings come from obedience to GOD, and by His mercy and generosity, we are experiencing those blessings in so many ways, including the beautiful organization and teamwork that organizes our Weddings. All glory for this goes to our Almighty GOD.
"There are different kinds of gifts, but the same Spirit. There are different kinds of service, but the same Lord. There are different kinds of working, but the same God works all of them in all men. Now to each one the manifestation of the Spirit is given for the common good." (I Corinthians 12:4-7)
As you peruse the vast number of photos on this website, we pray that you will see both the magnificence and distinctiveness of each Wedding. Our Church Leadership and the Committees of gifted Saints who oversee Wedding planning go to great lengths…in prayer, word, deed, and in total, peaceful cooperation with one another…to make sure that each event reflects a combination of things as led by GOD'S Spirit: the dreams and wishes of the bride and groom, the colors and climate of the season, the music and reception activities that uniquely represent the couple and the time of the year, and the decorations and foliage that best represent the beauty with which GOD is clothing the Earth at that time.
"Praise awaits you, O God, in Zion; to you our vows will be fulfilled…Blessed are those you choose and bring near to live in your courts! We are filled with the good things of your house, of your holy temple. You answer us with awesome deeds of righteousness, O God our Savior, the hope of all the ends of the earth…" (Psalm 65:1, 4-5)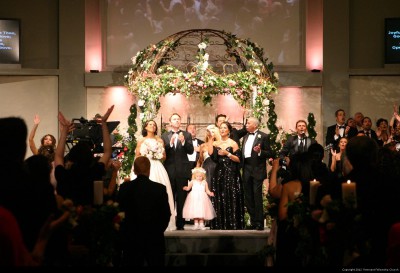 What goes beyond the outward appearances of our Weddings…the sights and sounds, the aromas and tastes…are the Truths and Vows that are spoken at each occasion. These truly are some of the most exceptional, distinct Weddings (as family members and friends of each couple can attest) that one will ever experience. For each Remnant Wedding, the bride and groom write their own "Vows of Commitment" in advance and they then read them to one another in the presence of all who are in attendance. Most importantly though, each event features a special message of Truth…a lesson not only for the couple but also for everyone who is witnessing the Ceremony. Each message is unique, and it convicts, encourages, and moves all who hear it to seek a deeper relationship with GOD. In addition, each couple signs common Vows of Commitment, the "Covenant," that have been penned specifically for all Remnant Weddings. Yet another unique feature of each Remnant Wedding is the expression of commitment shared from the Church members to the couple as they are joined together in matrimony. The "Vows of Accountability" reflect OUR pledge as brothers and sisters in Christ to the couple…to do our part to uplift them, encourage them, to be accountable and to hold them accountable… to purity, love, and total devotion to GOD first and then to each other. Lastly, our Church Shepherds take an active role in each Wedding. This serves as a sign of solidarity and support for each couple. Our Leaders vouch for the fact that the couple being united is living righteously…and that we support their Covenant marriage before GOD. This Church has celebrated 70 of these Covenant Wedding Ceremonies to date…just from our membership alone, and each one carries special memories for all of us.
So much more can be said about these glorious Ceremonies and the beauty that surrounds them, but as you will continue to see as you continue surveying this website, "a picture is worth a thousand words." This, indeed, is true! Enjoy your visit, and please feel free to visit us locally at the Remnant Fellowship Church, located at 1230 Franklin Road in Brentwood, Tennessee. You also may join us via webcast at www.remnantfellowship.org for our weekend and mid-week Assembly times. Our upcoming Weddings are listed on our online Calendar, and we look forward to seeing you soon!