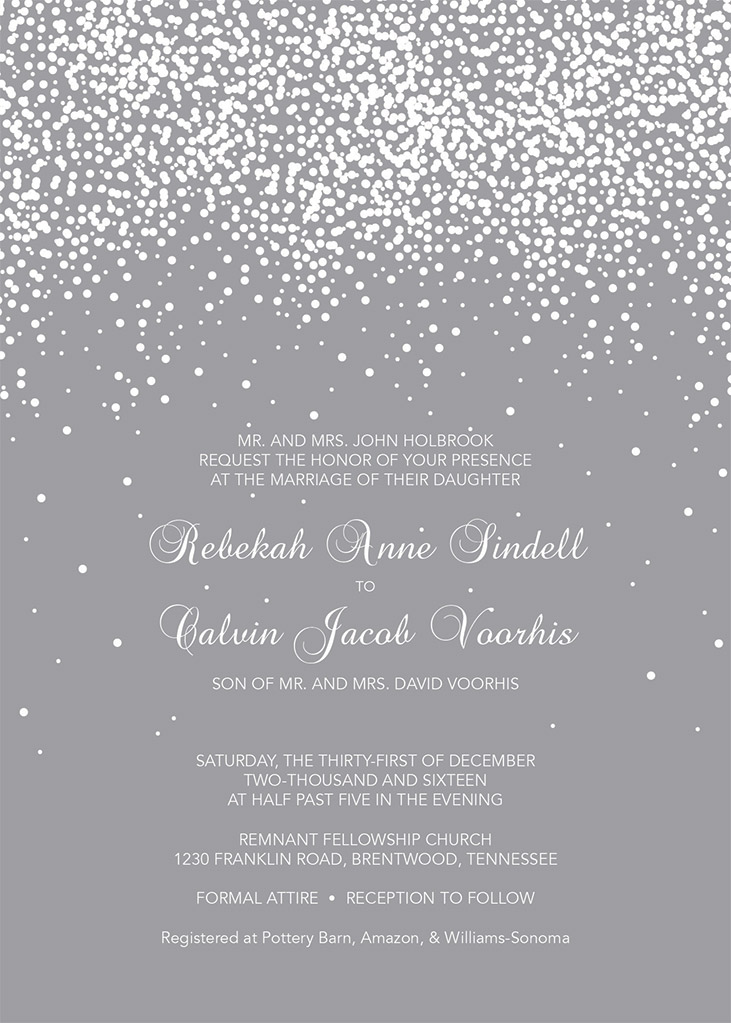 Details ...
Wedding Day!
Saturday, December 31, 2016
The wedding begins with prelude music at 5:00pm CST.
The Couple is registered at:
(Click on the links below to go directly to their registry)
Amazon, Williams-Sonoma, and Pottery Barn
Their Story...
Calvin Voorhis:
I am totally overjoyed to say that Remnant Fellowship has been teaching a message that has drastically changed my life in so many ways. I lived a life where I was only focusing on myself and my selfish desires. My day consisted of being a slave to idols such as tobacco, drugs, alcohol, lust and many other things including a crippling anxiety. This eventually left me feeling more empty and less happy.  As time went on, I would run to those things more frequently, trying to fill this empty feeling in my heart. By choosing this selfish lifestyle and craving to be outside of the authority line that God had established for me, I began ruining my relationship with my family and friends. The life I was living was full of emptiness and curses like it says in Deuteronomy 28:15-68.
Now, my life is the complete opposite from what it used to be. Everyday I wake up and I'm thankful to God for allowing me another chance to wake up and spend anytime he has given to me, seeking his spirit and his will and serving his kingdom. The time that has been given is not my time but God's time, and learning to realize that has been the most amazing thing ever. By remembering this and giving up control, God will come back in and bless it. There is a joy or peace that God allows when you give up what you want for what He wants. Learning to turn to God for everything and knowing that He will take care of everything is absolutely the most peaceful feeling ever. There is now joy and peace everyday when I wake up and relationships with family and friends have been healed. I now crave to be under authority and the instructions of my parents because its God's way of setting boundaries and it makes life so much easier. There is no substitute to this Happiness!
I met Becki Sindell through Remnant Fellowship and can honestly say I didn't pursue the relationship right away. I was attracted to her godly attitude, selflessness, her desire to be under authority and willingness to serve God and his kingdom. In my heart I knew I still had some things I needed to work on. I wanted to be totally at peace, under authority and seeking God's will in everything before pursuing any relationship. As time went on, I began praying to God that if it was his will for me to begin seeking a relationship that he would make it clear. Once I felt that this was what God wanted I asked her to go to a dance class held at the church and that's where it all began. As time passed, we grew closer together and began to grow closer to God as a couple.  I feel that it is important that as a couple we are able to run to God together for anything and seek him because a relationship with God is what will lead to a strong and loving relationship with each other that will last.
On October 1st 2016 I proposed to Rebekah and she said yes! I proposed by the vineyard at Ashlawn and couldn't have asked for a more beautiful day. God totally orchestrated the whole thing from start to finish. I'm overjoyed and so excited to be marrying this beautiful, godly woman on December 31st.  I am so excited to see what God has in store for us. To top it all off, another godly couple, Mason Holbrook and Hannah Mornout have offered and allowed us to share a wedding day with them. Mason (Becki's brother) has gone through many changes and has devoted his life to God. Hannah is someone I have known for many years and she is so selfless and has a heart of a servant. I love this couple and I am so excited to be sharing this special day with them and just want to say thank you! I want to also say how stress free and amazing this wedding planning process is and just want to thank the people who are a part of it, who lay down their time to make it happen. I want to thank Remnant Fellowship Church and its leadership for laying down their lives and tirelessly serving God's kingdom and to Gwen Shamblin for preaching this message of true change and showing us that it can be done--you can lay down idols and be set free!  Without this truth being taught, I would still be out in the world, empty, hurting and lost. I can't imagine a life without this message and I'm so thankful to be a part of it!
Becki Sindell:
I want to declare that my life is ALL God's and any good is from Him! I'm so excited and honored to share and give glory to what God has done in my life! Never could I have dreamed of a life so beautiful. In the past I was empty, anxious, and self-focused. Now, through putting into practice the messages taught at Remnant Fellowship, there is peace, joy and love that makes everyday better and better. In Romans 6:17-18 it says, "But thanks be to God that, though you used to be slaves to sin, you wholeheartedly obeyed the form of teaching to which you were entrusted. You have been set free from sin and have become slaves to righteousness." I can testify that I have been truly set free from my old ways and now crave a heart for God alone, a slave to righteousness. Building a relationship with God each day has transformed my life.  I know now that my life is not about me, but only about GOD. One of my favorite scriptures is, 1 John 2:17, "The world and its desires pass away but the man who does the will of God lives forever." When I finally gave over my desires and looked for God's will, I found a life worth living. Taking time to stop, pray, and to earnestly seek God has helped me to completely change my past behaviors. There is now an intense desire to read God's word and find His lead throughout the day. This relationship with the Creator of Everything has grown sweeter over time and I have fallen in love with God!
Ever since I was a little girl I prayed for my future husband to be a righteous man that loved God over this world. As I waited patiently through the years, God continued preparing my heart for the man He had planned for me. I learned through the message taught at my church to fall in love with righteous characteristics over everything else. Our story all began when Calvin Voorhis sweetly invited me to be his partner at a ballroom dance class at my church. Little did I know that this was the man that God knew would sweep me off my feet! Ever since our first dance, God grew us closer together. It became evident that we both had this deep love for God and His kingdom, which attracted us to each other. He is the answer to my prayers, and his righteous love for God over this world is what I fell in love with.
In just months of dating, on October 1st, 2016, we were engaged. It was an unforgettable day, because it was such a sweet surprise! We were on our way to a youth gathering at our church when we were invited to stop by the beautiful antebellum home of Gwen Shamblin. Calvin led me down a pathway sprinkled with white rose petals and lined with flickering candles. As we were walking, Calvin began reminiscing over all that God has done in our relationship. He then dropped to one knee and asked me to marry him! At that moment I started crying out of sheer joy and said YES!!! Shortly after, we went to our church for a surprise celebration. We entered to a hallway lined with close friends and family filed with love, excitement and shouts of joy. How sweet it was to be surrounded by our church family praising God for what He has done.
I am beyond excited and eagerly counting down the days until I become apart of the Voorhis family! My heart is full of gratitude to God for this message of truth taught at Remnant Fellowship that transformed both of our lives. It was our love for God and His kingdom that brought us together! There is no fear of commitment or being married, but only a joy in knowing that our marriage will be blessed as long as God is at the center of everything. I'm incredibly grateful for the righteous examples God has placed in our lives. I have witnessed the beautiful fruit of couples who have put into practice the scriptures in 1 Corinthians 7 and Ephesians 5:22-33 on marriage and how wives/husbands should treat each other. This makes me have hope for a beautiful lasting marriage and I'm excited to put these scriptures into practice as well. I'm delighted in what God is doing and excited to see what God has in store for our future.
Not only do I get the honor of marrying Calvin, but I also have the tremendous honor of being married together with my brother Mason Holbrook and his bride to be, Hannah Mornout. When we were presented with the opportunity of having a double wedding, it was an automatic "YES" from all of us! Calvin and I feel so incredibly honored and couldn't imagine getting married any other way. I've learned that when you don't grab for what you want and have no expectations, waiting for God's will/lead is always WAY better than anything you could've ever expected. Mason, Hannah, Calvin and I agree that this wedding is not about us but all about God and building His Kingdom of Love!
The weddings at Remnant Fellowship are spectacular because they are designed by God! There is a committee of volunteers over every aspect from flowers and food to decorations and music. This selfless wedding committee has allowed planning our wedding to be absolutely effortless and stress free. I feel so undeserving to be given such a sweet opportunity to be married before God in this church. It is amazing to watch God work through all those who coordinate, making each wedding unforgettable. Please join us in celebrating this covenant before God, and may His will be done in all things forever, Amen!